Don't wait until Black Friday to take advantage of holiday savings!
Start your shopping early with this great sale on two amazing books.
The sooner you buy, the more you save!
Amazon US
November 17, 2018 at 8:00 AM (PST) $0.99
November 18, 2018 at 9:00 PM (PST) $1.99
November 20, 2018 at 10:00 AM (PST) $2.99
Amazon UK
November 17, 2018 at 8:00 PM (GMT) £0.99
November 19, 2018 at 8:00 AM (GMT) £1.99
Sale ends on November 22nd
Books Sold Separately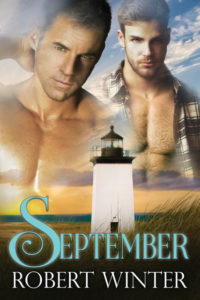 Title: September
Series: Pride and Joy #1
Author: Robert Winter
Publisher: Dreamspinner Press
Original Release Date: Dec 9, 2016
Heat Level: 4 - Lots of Sex
Pairing: Male/Male
Length: 304 Pages
Genre: Romance, May-December, Contemporary, Provincetown, Washington DC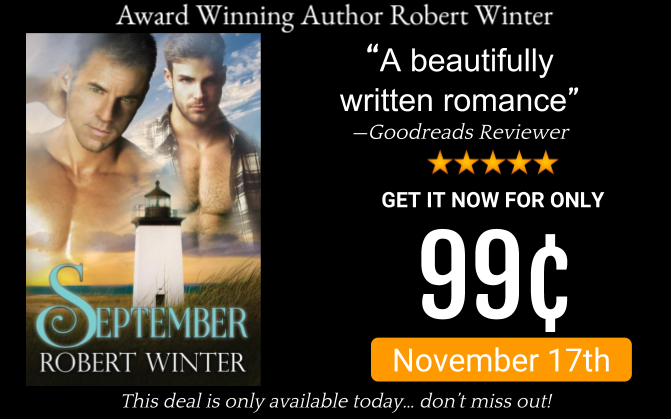 Synopsis
David James is smart, successful, handsome… and alone. After the death of his lover, Kyle, from cancer, he buried himself in his law practice and the gym. At forty-eight, he is haunted by his memories and walled off from the world. When David injures himself working out, he's assigned to Brandon Smith for physical therapy. The vibrant young therapist is attracted to David and realizes he needs a hand to get back into dating. What begins as a practice coffee date escalates to friendship, passion, and maybe something more, as they navigate a new relationship in Washington, DC, and the gay mecca of Provincetown.
But David remains trapped behind the barrier of fear and guilt. Will he remain loyal to Kyle's memory if he moves on? Can he and Brandon manage a twenty-two-year age gap? Brandon thinks he understands David's concerns, and for him, the answer to those questions is yes. He wants to be with David, and he believes he can overcome David's barriers. But Brandon fails to account for the world's reaction to a handsome young man attached to an older, wealthy lover. David's memories, Brandon's pride, and an unexpected tragedy might cost them something very special…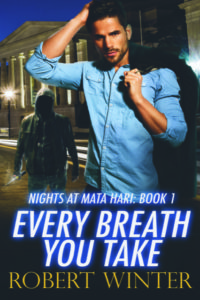 Title: Every Breath You Take
Author: Robert Winter
Publisher: Dreamspinner Press
Release Date: May 5, 2017
Heat Level: 3 - Some Sex
Pairing: Male/Male
Length: 221 pages
Genre: Romance, Thriller/Suspense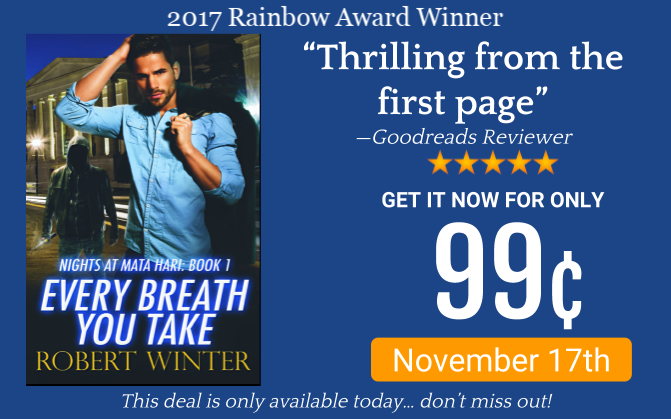 Synopsis
When Zachary Hall leaves Utah for a job in Washington, it's finally his chance to live as a gay man and maybe find someone special. In a bar he meets Thomas Scarborough, a man who seems perfect in and out of the bedroom. But Thomas never dates. He never even sleeps with the same man twice. Despite their instant connection, he can offer Zachary only his friendship, and Zachary is looking for more.
Thomas is tempted to break his own rules, but years before, he became the victim of a stalker who nearly destroyed his life. Even though his stalker died, Thomas obsessively keeps others at a distance. Despite his fascination with Zachary, he is unable to lower his barriers. Frustrated, Zachary accepts he will never have what he wants with Thomas and soon finds it with another man.
But young gay men in Washington, DC are being murdered, and the victims all have a connection to Thomas. Once again someone is watching Thomas's every move. Can it be a coincidence? When the depraved killer turns his attention toward Zachary, Thomas must face the demons of his past—or lose his chance to open his heart to Zachary forever.
Meet the Author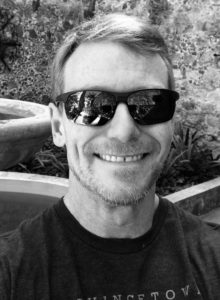 Robert Winter is a Rainbow Award-winning author who lives and writes in Provincetown. He is a recovering lawyer who prefers writing about hot men in love much more than drafting a legal brief. He left behind the (allegedly) glamorous world of an international law firm to sit in his home office and dream up ways to torment his characters until they realize they are perfect for each other. When he isn't writing, Robert likes to cook Indian food and explore new restaurants. He splits his attention between Andy, his partner of seventeen years, and Ling the Adventure Cat, who likes to fly in airplanes and explore the backyard jungle as long as the temperature and humidity are just right.
Giveaway
a Rafflecopter giveaway