Title: Scarred
Author: Mia Kerick
Publisher: NineStar Press
Release Date: December 31, 2018
Heat Level: 3 - Some Sex
Pairing: Male/Male
Length: 68500
Genre: Contemporary, contemporary, PTSD, dissociative disorder, stalking, kidnapping, homophobia, family issues
Synopsis
Even in paradise, beautiful faces can hide scarred souls.
Placida Island's gentle ocean breezes and rolling surf beckon to those who wish to reside in remote tropical serenity.
TWO men living in self-imposed exile.
Wearing twisted ropes of mutilated skin on his back and carrying devastating damage in his soul from severe childhood abuse, Matthew North lives alone in a rustic cabin on the shore, avoiding human contact.
Gender fluidity his perceived "crime" against family and friends, Vedie Wilson flees his childhood home so he can freely express his identity.
THREE persecutors seeking their warped view of justice.
Vedie's past refuses to stay in the faraway city he left behind when family members, intent on forcing him to change, threaten the precious peace he's found.
Their beautiful faces masking deeply scarred souls, Matt and Vedie live in hiding from the world and each other.
Excerpt
By ten, I'm sweaty as a deckhand from bussing tables on the beach, and I'm sorely in need of a brew or six. But seeing as I've got no cash to burn, I'm gonna have to leave my coworkers—who're revving up over by the tiki bar—to their night of hard partying. I grab my leopard-print backpack from the hook on the back wall of the bar and head to the men's room to turn into the other me.
And just as I figured, Joey's waiting on me there. "You gonna come party with us tonight, sweet Vedie?"
"No can do, Joey, much as I want to." Safe inside a stall, I pull off my sweaty green The Only Tiki Hut on Placida Island work T-shirt. As soon as I replace it with a dark red, stretchy lace off-the-shoulder number, I can breathe easy. Next, I strip off my khaki shorts and yank on my favorite black velvet pair. Even though I've gotta ride my bike home, I kick my high-tops into my backpack and slide on a pair of jeweled flip-flops. After taking a quick piss, I head out of the stall and plant my ass in front of the mirror beside Joey, who's standing there like he's got nothing better to do than count the drips of water leaking from the faucet.
"Lookin' good, pretty Miss Vedie…mmmhmm…"
No matter if I'm dressed like a dude or a lady, Joey always stares at me like I'm a juicy bowl of strawberry shortcake—he licks his lips, and I know he wants to take himself a nice big bite of a flavor he can't get at home. Then he slaps his hand hard against my thigh, and creepy-slow, it climbs my leg. It's headed for my ass cheek, or my name ain't Vedie Wilson.
"Hands out of the cookie jar, Joey, my man." I don't appreciate it when any dude gropes me without asking for permission first. But the sad truth is I'm never gonna want Joey's hands on me. While he gawks, I pull a shimmery hairband out of my bag and wrap it around my head to hold the damp dreads off my face. "Got yourself a sweet tooth, looks like, Joey. You'd be wise to get your ass home to your sweet wife, not that you asked me for no words of wisdom."
"Not gonna even think about goin' home 'til I had me some fun," Joey replies, jamming his hand in his pocket—probably to keep it from curving around my ass.
When I bend to rinse the sweat off my face, he stays quiet and doesn't goose me. Maybe this time he heard what I told him about getting his ass home to Mrs. Joey. But more likely he's checking out my butt.
"Baybeee…uh-huh…mmmhmm…nice ass you got there in them sweet little shorts…"
I sigh real loud, "I've got some shit to do here, big dawg, so if that's all you wanted." The only way to get this guy to take a hike is to tell him point-blank that he's gotta head on out. "Catch ya on the flip side."
He leans in so close his scratchy beard brushes my neck, and I shiver in the bad way. He takes a deep sniff—I guess he likes the smell of sweaty dude—and then finally bails. And right about now, I sorely wish the tiki hut restaurant had one of those one-person anything goes restrooms—for a dude, a lady, or whoever you feel like at the moment—but at least now I'm finally alone in the men's room.
I pull out my makeup bag and quickly powder my nose so it doesn't shine in the moonlight, and I glide a deep shade of maroon over my lips. But I take the time to be an artist with my eyeliner and mascara because I figure eyes oughta say something. When I look good enough that I'd wanna do me if I got hot for ladies, I figure I'm looking good enough for public viewing. And my new perfume smells like the freedom I've got down here on Placida Island—coconuts and wildflowers and the ocean and honey. I spray it on heavy all over my neck and chest.
As I saunter out of the men's room, I don't miss that it's funny how I went in here looking all-dude, but coming out, you could mistake me for a lady. Ha! More like a red-hot, sexy mama—smooth and silky everywhere except for the four-day beard.
I'm a guy, though, even when I'm dressed this fine. And in my opinion—not that anybody gives two shits what I think—the combo of smooth legs and a stubbly chin says, in your face, assholes! I don't have to choose how I show myself to the world anymore.
Purchase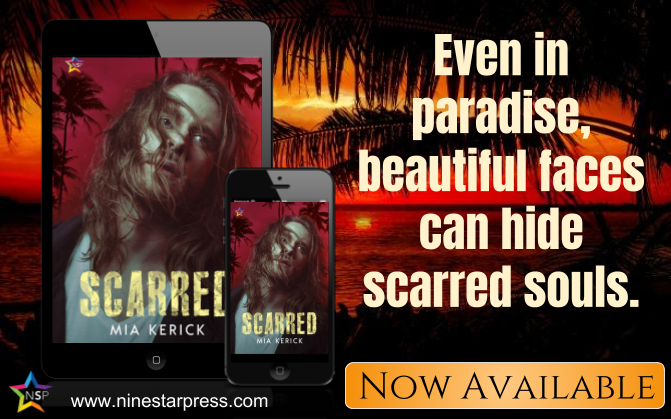 Matthew has been living as a hermit on the tropical island he now calls home with his four cats as his company, as he tries to heal from the emotional and physical wounds he suffered at the hands of a man who abducted and abused him when he was only 7 years old. Meeting Vedie, a young busboy who treads the line between genders makes him want to be able to connect with someone else and slowly they strike a friendship, which eventually turns into more. However, the past has a way of sneaking into their present.

Matt's story is absolutely heartbreaking. I felt so bad for what he went through when he was just a child and really, I wanted to kill the guy who put him through all that and strangle his parents, especially his mother, for how they handled things once he returned home as a teenager. They had money and resources at their disposal and they still drove Matt away. *shakes head*

I felt bad for Vedie, too, but somehow I found it difficult to connect with him. I'm not sure why. I liked him in all his transgender glory and I loved that he was the catalyst for Matt being able to really start healing and be able to open himself and his heart again. They were a bit awkward at first, which all things considered was very realistic, and it was lovely seeing them grow more comfortable with each other as time went by. They had great chemistry and I loved that Matt could accept Vedie for all he was, researching and standing up for him whenever he needed it and that Vedie could pretty much do the same for Matt in a different way, but equally meaningful.

All in all, this was a really good, angsty read! I'm aware that the theme isn't easy, reading some of Matt's journal entries and the things Vedie had to go through at the hands of his brothers was difficult, to say the least. However, Mia Kerick did a superb job with it, without going overboard, to give us a love story that helped healed even the worse wounds of the soul.

Very recommendable!

*** Copy provided to Bayou Book Junkie for my reading pleasure, a review wasn't a requirement. ***
4 Stars


Starts off a little slow and rambling, but I am glad I persisted, as this is a decent, though not easy, read.

This tale is one with two leads who've experienced trauma, and they're flawed, but not broken. That wasn't immediately visible in the tale, which sort of rambled until about 12% or so, and I was thinking of DNF'ing it, thinking it's not for me, but then it changed. I'm not quite sure what the point was for me, but I think it was when I began to see more than the 'round the houses' vibe and got to see-see the guys.

Vedie's trauma doesn't initially seem huge in comparison to Matt's, but the author was clever in saving her reveals for later in the tale, and telling us, but thankfully not making us live it, about how his nearest and dearest hurt him, simply because he was different and they didn't understand him, and were prejudiced and bigoted. I both did and didn't get his mental pain, though I did get the physical hurts, because that sounded brutal, and 'by any means necessary' had seemingly been the order of the day for most of Vedie's life. When I say I didn't get his mental pain, I think that's because I wasn't wholly convinced that he was convinced of his innate gender fluidity. I don't mean to disrespect him or anyone whose gender is non-binary, but I - wrongly or rightly - understand that one's sense of gender is something one knows, feels, is a part of oneself, and that it's strong and something that can't be silenced, or suppressed. Well, some are forced to suppress their true gender, it's clear, but in Vedie, I didn't get the impression that he was that bothered that his feminine side seemed to have retreated. Had his conviction been portrayed more strongly, had I felt it as well as read about it, I think I'd have understood his mental pain more and gotten him more. As it was, I - again, wrongly or rightly - got the impression that he didn't have the conviction that it seems (most?) non-binary people have about who and what they are.

Matt's trauma was mental, and previously, both mental and physical. I felt for him, and yes, I believed in his 'lapses', where he seemed to mentally retreat into a safe space. I found it really sad that he was still suffering, but it was also satisfying to know that he hadn't allowed it to consume him, to take over his life, and that he was successful professionally. But, his relationship with his parents was sad. To have lost their child and to have been blessed with the miracle of getting him back after 8 years, should've bonded them massively. Instead, they seemed to be, well the mum more so, the kind of parents to be obsessed with appearances, with material things, with what they perceive is acceptable/not. I don't think they were awful, but they didn't come across as parents worthy of what Matt needed and deserved.

And, I liked that Vedie ran interference, protected Matt, deflected Matt's rather ignorant, selfish, materialistic parents and also showed them his class by not descending to the kind of disrespect that they showed him. He was clearly bigger than them, and I think that that's what started to make them see him other than just in his skin colour and gender expression, and made them start to respect him. I don't think he'll ever have a loving relationship with them, but maybe respect is the best he can hope for.

I liked that both guys found strength in each other. Matt found emotional strength, acceptance and open love from Vedie, and whilst he couldn't say the words as easily, he provided physical strength, shelter, caring and friendship. It was sweet to see how a couple of guys who likely wouldn't have met had their lives been 'normal' came together, broke down each other's barriers, and became each other's support system.

It wasn't as a hard a book as I thought it might be, because Matt had surprising strength in recounting his past, and we didn't get to see it being lived, thankfully, and Vedie seemed equipped by his childhood and family to deal with the traumas inflicted on him. I think both guys had strengths that weren't immediately apparent.

ARC courtesy of NineStar Press and Bayou Book Junkie, for my reading pleasure.
Meet the Author
Mia Kerick is the mother of four exceptional children—one in law school, another at a dance conservatory, a third studying at Mia's alma mater, Boston College, and her lone son still in high school. She has published more than twenty books of LGBTQ romance when not editing National Honor Society essays, offering opinions on college and law school applications, helping to create dance bios, and reviewing English papers. Her husband of twenty-five years has been told by many that he has the patience of Job, but don't ask Mia about this, as it is a sensitive subject.
Mia focuses her stories on the emotional growth of troubled young people and their relationships. She has a great affinity for the tortured hero in literature, and as a teen, Mia filled spiral-bound notebooks with tales of tortured heroes and stuffed them under her mattress for safekeeping. She is thankful to NineStar Press for providing her with an alternate place to stash her stories.
Her books have been featured in Kirkus Reviews magazine, and have won Rainbow Awards for Best Transgender Contemporary Romance and Best YA Lesbian Fiction, a Reader Views' Book by Book Publicity Literary Award, the Jack Eadon Award for Best Book in Contemporary Drama, an Indie Fab Award, and a Royal Dragonfly Award for Cultural Diversity, among other awards.
Mia Kerick is a social liberal and cheers for each and every victory made in the name of human rights. Her only major regret: never having taken typing or computer class in school, destining her to a life consumed with two-fingered pecking and constant prayer to the Gods of Technology. Contact Mia at miakerick@gmail.com or visit at www.miakerickya.com to see what is going on in Mia's world.
Giveaway
a Rafflecopter giveaway