Release Blitz ~ Living On the Inside by Londra Laine (Review + Giveaway)

Title: Living on the Inside
Author: Londra Laine
Publisher:

Independently Published
Release Date: Tuesday, January 29, 2019
Heat Level: 3 - Some Sex
Pairing: Male/Male
Length: About 55,000 words
Genre: Romance, Single dad, gay romance, interracial, ex-con, domestic abuse, work romance
Synopsis
Micah Grayson lives in his baby mama's guesthouse. It's unconventional and awkward, but he's happy for a chance to reconnect with his teenage son. He doesn't have time for other distractions—no matter how sexy, independent, and compassionate that distraction might be. Besides, he's not good enough for more than a fling—no one would ever take him home to meet their parents.

Adrien Darling has book smarts, but no street savvy—at least that's what his family says. And after a heart-breaking betrayal by the man meant to love and protect him, Adrien believes them. But then a gorgeous guy with a defeated look in his eyes walks into Adrien's coffee shop and makes him want to take a chance.

After years of living on the outside as two misfits looking in, both men are afraid to reach for more. But in each other's arms, Micah and Adrien find out what it's like to live on the inside. As their tender bond grows and blossoms, old insecurities bubble to the surface. Will their commitment crumble under the pressure? Or will the two find the strength to fight for each other.

***Please be aware that this book contains a flashback of and several references to domestic abuse that may be triggering to some readers.***
Excerpt:
"Is that what we are?" Micah asked quietly. "Friends?"




"Yeah," Adrien answered. "I hope so."




Then he was surrounded by Micah's body. Adrien hesitated for a moment before returning the other man's embrace, locking his arms around Micah's torso. A few seconds into the hug all the reasons why he needed to pull away from Micah—

now

—raced through his mind. But he couldn't make himself do it.




Adrien had been fighting his attraction, but the man had slipped past Adrien's defenses. Micah's earnest joy at making progress with his son. His trust in Adrien as he shared his insecurities. His nonjudgmental attitude. Their growing friendship. All those things made him feel strong and needed. Adrien wanted more of that feeling. He leaned into Micah.




Micah sighed as he squeezed Adrien tighter, and Adrien's body sagged against him, the fight against his attraction to Micah leaving his body. He tucked his head into the crook of Micah's shoulder, and gave in to defeat, breathing in the salty sweet scent of Micah's skin, running his palms up the man's back.




The scent and feel of Micah was heady, and Adrien's head swam as he let his eyelids flutter shut, let his lips graze the exposed skin between Micah's neck and shoulder. Micah tensed against him and his breath hitched, making Adrien wonder if he'd gone too far. But then Micah's palm slid up Adrien's neck, cupping his nape, grazing a thumb along his hairline.




Micah moved his other hand lower, resting it right above Adrien's ass, his fingers lightly grazing the swell below Adrien's hips.




"Adrien," Micah grated out. Adrien pulled back, slowly opening his eyes. Micah licked his lips, his eyes skimming Adrien's mouth, and then he leaned forward.




Adrien met him halfway, their lips connecting in a kiss. The light brush became a firm press then flared, hot and wet, as Adrien ran the tip of his tongue against the seam of Micah's lips. Micah submitted to Adrien's silent request, parting his lips to give Adrien access to his tongue and mouth.




Then a loud honk made them jerk apart as a car sped past them, headlights bright and blinding. Their chests heaved, and Adrien took in Micah's disheveled hair and damp lips and wondered if he looked nearly as enticing to Micah.




Adrien's gaze skittered away, and he grimaced, embarrassment replacing the intense need he'd felt moments ago. What was he doing? He knew better than this. He'd been down this road before. He couldn't get involved with an employee again.




Then a terrible thought occurred to him. What if Micah felt like he had to hook up with Adrien? Had Adrien pressured him in some way? Shit. Negative thoughts tumbled through his mind, making him dizzy. He had to nip this in the bud.




"Micah, about what just happened—"




"Our kiss?" Micah moved closer to him.




Adrien's eyes wandered, unable to meet Micah's. "Yeah, the kiss. I'm sorry—I didn't mean to—I'm sorry." He shook his head and Micah stopped the motion by gripping Adrien's chin between his forefinger and thumb. He lifted Adrien's face to his.




"I'm not sorry." Micah's voice was quiet in the night.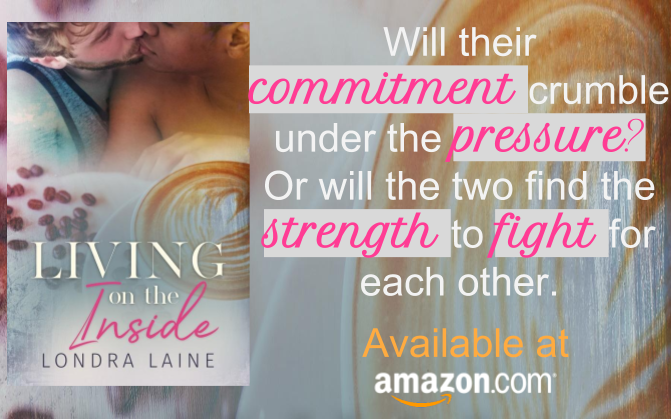 Living on the inside is a standalone novel by Londra Laine.

Micah is finally out of prison and is living in the guest house which his baby mama owns. Together they live with their son Caleb. Micah is struggling to find a job because of his record but one day, walking home from another bad interview, he sees a café looking for workers and applies. He is given an interview right away and gets the Job.

Adrien is the café owner. He has a big family who is very close with, and is finally somewhat bouncing back after the death of his abusive fiancé. Adrien sees in Micah a gorgeous man down on his luck and he hires him on the spot.

Micah and Adrien are both misfits looking in. Together they start a timid relationship that eventually blossoms, but can meddling family let it last?

While I liked both characters I felt like I couldn't connect with them. They were well thought out for the most part but there were some things I wish we would have known more. It was a good book, but at times it felt a little long and I skimmed a couple pages. I loved the outcome; however, the ending felt rushed and it left me wanting a bit. It was very abrupt - they got back together, had dinner with Adrien's family and they had many others there. An epilogue would have been nice and maybe it would have given more closure.

*** Copy provided to Bayou Book Junkie for my reading pleasure, a review wasn't a requirement. ***
Meet the Author
Londra has loved reading since she figured out how to do it. She writes to give her guys the happy ending she wishes everyone––no matter their race, religion, gender, or orientation––could experience in real life. Londra makes money as a communications manager. She is a former journalist, a runner and a mezzo soprano. In 2010, she moved from her native California to New York City where she lived in Harlem for nearly eight years. In early 2018 she relocated to Seattle with her spouse.
Giveaway
a Rafflecopter giveaway